BLACK★ROCK SHOOTER: The Complete Introduction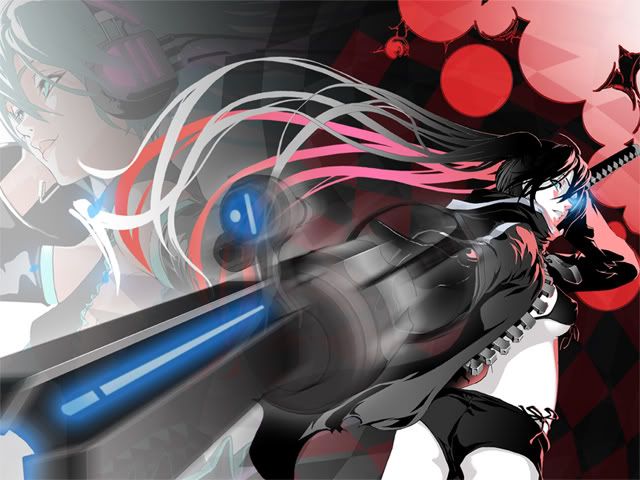 Artwork is credited to the owner
BLACK★ROCK SHOOTER is an original character created by huke that happens to look like Miku Hatsune. However, she is not. The interest surrounding BRS is stemming from the release of the popular song that goes by the same name that is sung by Miku Hatsune, but composed, arranged, and written by ryo. The video, originally released on NicoNicoDouga, has reached over two million views.
The song will be used as the Opening theme for the Animation Project for BRS that has been in production. huke and ryo are at the helm in collaboration with the supervision of Yutaka Yamamoto (Lucky Star, The Melancholy of Haruhi Suzumiya, Kannagi) and his Ordet studio to handle animation. The anime will be under the direction of Shinobu Yoshioka (Lucky Star, Haruhi). The BRS Project team released a teaser trailer of the pilot at Chara Hobby 2009 which has created major buzz around the PVC/figma and anime otaku community. Like any upcoming/break-out series or character, a substantial amount of fanart has also emerged in popular art communities such as Pixiv and DeviantArt, and typically sourced in image board communities like Danbooru.
A 2-disk DVD/Blu-ray+CDsingle pack consisting of:
The full 90second Pilot Animation (BGM = original/instrumental)
The full 90second Pilot Animation (BGM = 2M Mix - Miku Hatsune voice)
The full 90second Pilot Animation (BGM = 2M Mix instrumental)
Black Rock Shooter (2M Mix) [4:51]
Black Rock Shooter (2M Mix instrumental) [4:51]
...will be on the shelves of popular anime/gamer otaku hotspots in Akihabara (i.e. Animate, Gamers) and around Japan on September 30th. If you are eager, you can even order now from amazon.co.jp.
The BLACK★ROCK SHOOTER anime is set to debut in Spring 2010.
Here are some videos to give you some key exposure:
Additional sources: Anime News Network | Vocaloidism | Official BLACK★ROCK SHOOTER website
Extra: BLACK★ROCK SHOOTER Figma
NOTE: Content may be edited as more information is made available. Feel free to contribute if you find something that is not written here. Thank you. =]
8 years, 10 months ago
| | |
| --- | --- |
| | |
I've become a pretty big fan of Black Rock Shooter and I'm really anticipating this release. I am also strongly considering buying the DVD+CD set because I'm very much into the whole character design and the direction they seem to be headed with the anime.

Personally, I am contemplating a doujin idea around Black Rock Shooter, but no guarantees on whether I'll have the time to act on it. For everyone who has liked my layout draft for Miku Hatsune, after I've handed everything off to Jim, I do have it in me to respond to Tom's desire for a dark theme and to center it around Black Rock Shooter. It's only fitting...and very cool. =]

8 years, 10 months ago

| | |
| --- | --- |
| | |
I am proud to say that I am quite the Rabid fanboy(but not TOO rabid~ xD) for BRS, It's been an addiction to me ever since I've fell onto huke's site... x3

Truly, huke is a genies for creating BRS...! :D

The characters, the story, it's all so enticing~ <3

The news for the Anime were heavenly for me, I was literally skipping around for the rest of the day... xD

8 years, 10 months ago

| | |
| --- | --- |
| | |
Art style is very cool... darker, and more sexual than the original vocaloids. Def targeted at a more mature audience (whether intentionally or not)

It's great to see it's getting traction :)

8 years, 10 months ago

| | |
| --- | --- |
| | |
Post A Reply
Please login to leave a reply.